May 19th, 2011
As a photographic artist I create using the technology of the day. When I started off my career working in black and white was as much of an necessity as it was a choice. Using conventional b&w film was affordable and gave me the most control over my images. In the digital age I'm still seeking out those images that are best preserved in b&w. I strive to keep the same quality that I use to get in the conventional darkroom, now in the digital darkroom. The image of the orchid was created in the digital darkroom. Photoshop now allows the artist working in black and white the ability to shoot in color and through the adjustment layers feature experiment with the color filters to bring out the shades of gray that are wanted. When working conventionally we use to place color filters on our lens such as red, yellow, green, blue. To affect the light coming through to the film. Think of the black sky you see in the Ansel Adams photographs,this was done with a red filter. Now in the digital darkroom I can have even greater control over my images by selectively applying these filters to get the proper effect. Of course the trick is knowing which color will be affected and how it will reproduce in black & white. With 40 years of experience I actually visualize when shooting how the final image will look. I have created a gallery of my work containing both conventional and digital black & white images. Have a look. Until next time. :-)
April 20th, 2011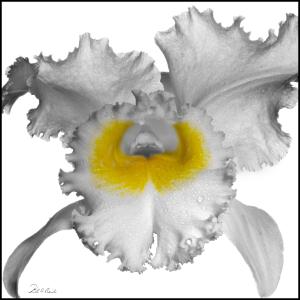 Orchids are not very common in Michigan, especially this time of year. I have friend in my business group that runs a several floral shops. So when I asked him about getting some he said he could. So I purchased 2 Cattleya Orchids. They are wonderful blooms to look at. They also are so large that they offer many splendid view. I have to work fast though they seem fragile and I hope they keep for a few days so that I can experiment with lighting and composition. The one shown here was one of my first attempts.
April 6th, 2011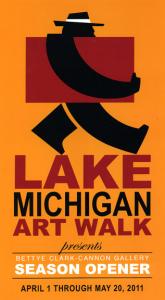 Just a invitation to the open house for the Lake Michigan Art Walk Opener. This show is being held in the Betty Clark Canon Gallery. This is the building that is attached to the Frauenthal Theater. It is on the second floor. The opening is on Friday evening the 15th of April. 5:00 pm to 8:00 pm.
I look forward to seeing you there.
April 4th, 2011
Just a comment on the Panorama of Palettes being held in Grand Haven Michigan at the Gallery Uptown. As a member of this show I just want to say how happy and proud I am to be with this wonderful group of artist. Many of whom I hadn't met before. The quality of work is great. I had a chance to talk to several of the artist and they shared their technique and also what inspires them to create. If you get a chance please go to see this show. It will be up through the month of April.